So in case any of you haven't seen Lady Gaga's new video for "Alejandro" -- DON'T.
As a woman dedicated to modesty and purity, especially in relation to dignity, I am appalled and distraught to see Ms. Gaga's latest attempt at a music video. Lacking in much "thought provoking content" (I did find the "Bad Romance" video to be interesting and thought provoking, if a near occasion of sin as well), it seemed a visual display dedicated to erotica and practically pornography for the sake of... itself.
As some of you may know, I'm a Catholic. And though the latex nun suit was kinda cool (i can appreciate interesting fashion), I didn't find much of a commentary on it besides straight up blasphemy juxtaposed against the cross-on-the-crotch outfit that she pulls later. This time it wasn't just a near occasion of sin, it was outright depravity that I saw. I was offended, upset, and cried for my faith and for her. It was such a sad display, and I can't really be convinced that it was worth anything besides shock value. There was only one outfit i particularly liked, i don't find the song very interesting, and she straight up pulled the oldest hat in the book -- she was prejudiced and took painstaking measures to offend the only group on earth for whom it is still socially "acceptable" to berate: the Catholic Church.
She's passed the "good ol' days" of "Bad Romance" that made a social commentary while being dirty and trampy... she's sunk to a new level of raw while singing something that comes across as "blah blah blah" more than anything else.
anyway...
thinking about Ms. Gaga today, i was reminded that I know (part of) the dance to "Bad Romance," so I decided to try out my hand at gifs with my outfit pics for today. :)
hope you think its as hilarious as i do!
today was an easy day, working in the house, making some stuff and cleaning up my disaster of a room (I had been hoarding stuff for years that I really would much rather not have, so I got rid of it!), and just chilling with the family. I have Fridays off, so its nice to have that time to just relax and have some sort of a summer!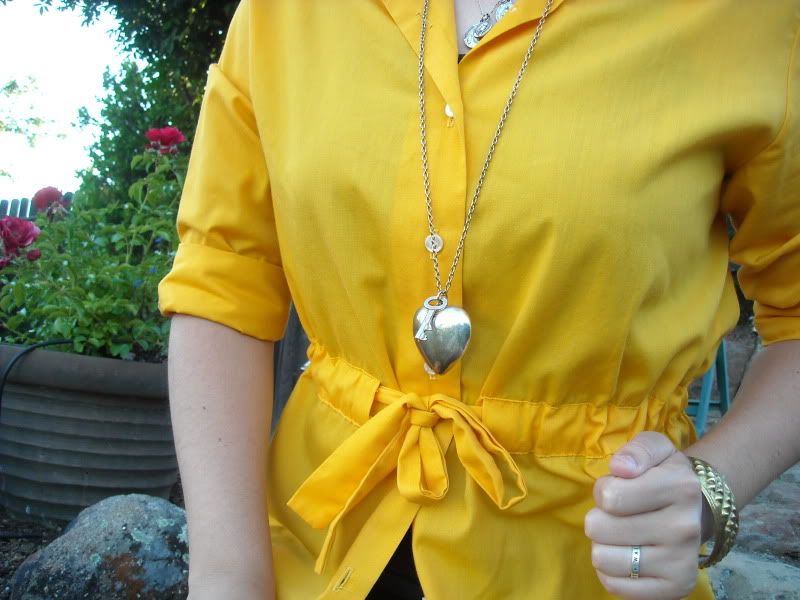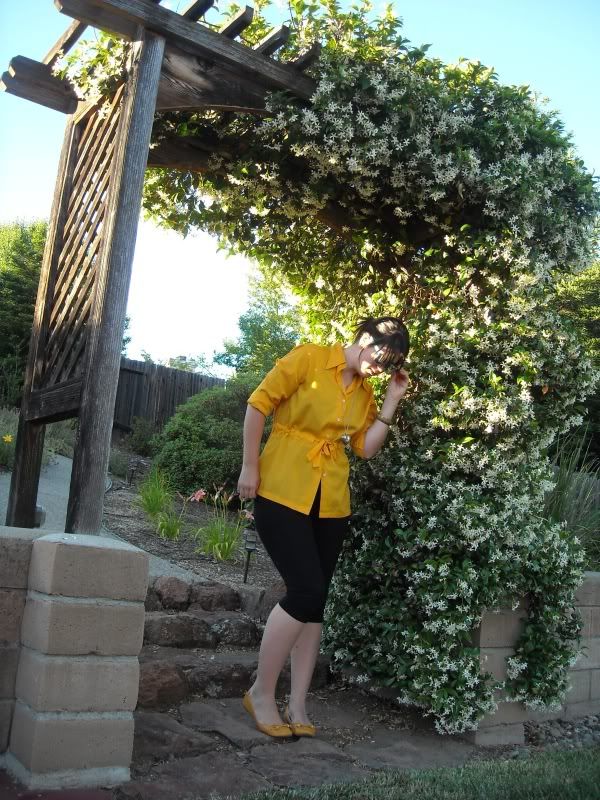 gold tie blouse: thrifted, black leggings: Target, gold flats: Hot Kiss, AWESOME sunglasses: xhilaration/Target, bangle: thrifted/vintage, heart necklace: Target
~(§]