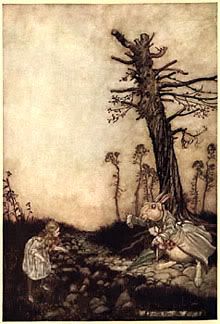 "curiouser and curiouser"...
a famous line of Alice's has become a recent favorite of mine -- my life seems to be changing at such a great pace, yet, "the more things change, the more they stay the same." All too true, and still, it all is so beautiful. Or perhaps that has more to do with my outlook.
I go to bed at night and continue to think that I am so incredibly blessed by the great things that happen to me each day. The job I have as a nanny in itself is such an amazing gift!
but the more things change, they don't resemble what I am used to. And yet, it's for the better, I just don't realize it always in the moment.
This whole situation called to mind my lovely Alice... and Lewis Carroll's brilliant stories and Arthur Rackham's brilliant illustrations. The following are Rackham's illustrations to Alice in Wonderland... feast your eyes on the brilliance of his work.
It's all so ethereal and absolutely stunning! The attention to detail is very art nouveau, which makes me incredibly happy, and still it's all so whimsical (and whimsy is such a lovely thing...)